Why buy from Peggybuy?
Peggybuy is based in China, we offers a lot of qualified unique DIY Diamond Painting Kits and Exquisite handicrafts.
We pride ourselves in having a diverse range of DIY Diamond Paintings to choose from, making it easy to find the perfect piece of art.
Here are the advantages of our products:
HD print pattern canvas

- We frequently inspect: canvas material, diamonds quality, clearness of symbols, stickiness of glue and durability of tools.
Faster shipping times

- Our average delivery time to most countries is only 2-3 weeks. Due to the impact of COVID-19 these shipping times may be delayed by about a week.
Diamonds double-check -

After the machine is matched with diamonds, we will conduct a second inspection to reduce the loss rate of diamonds.
New every week - We are always inspired to create unprecedented diamond crafts such as calendars, suncatchers, bird nest decorations and more.
And here's how we look after our valued customers:
Trusted payment provider Paypal® for safe and secure payments.
24/7 Priority support via Email and Facebook Messenger.
Enthusiastic friendly support and excellent service to our customers.
100% 90 day money back guarantee. If you receive a package with a product missing, damaged, we will refund your money according to our promise and according to our refund policy.
What payment methods do you accept?
We accept PayPal and credit and debit cards.
How do I cancel an order?
Cancel an unpaid order: To cancel an unpaid order, simply log into your account, go to "My Orders", cancel and delete the order and done.
Cancel a paid order: You can cancel it before the order status changes to "Processing." Please contact us by email.
What is the difference between round, square, crystal and special shaped drills?
Full Round Drill: Round rhinestones stones are neatly arranged throughout the canvas.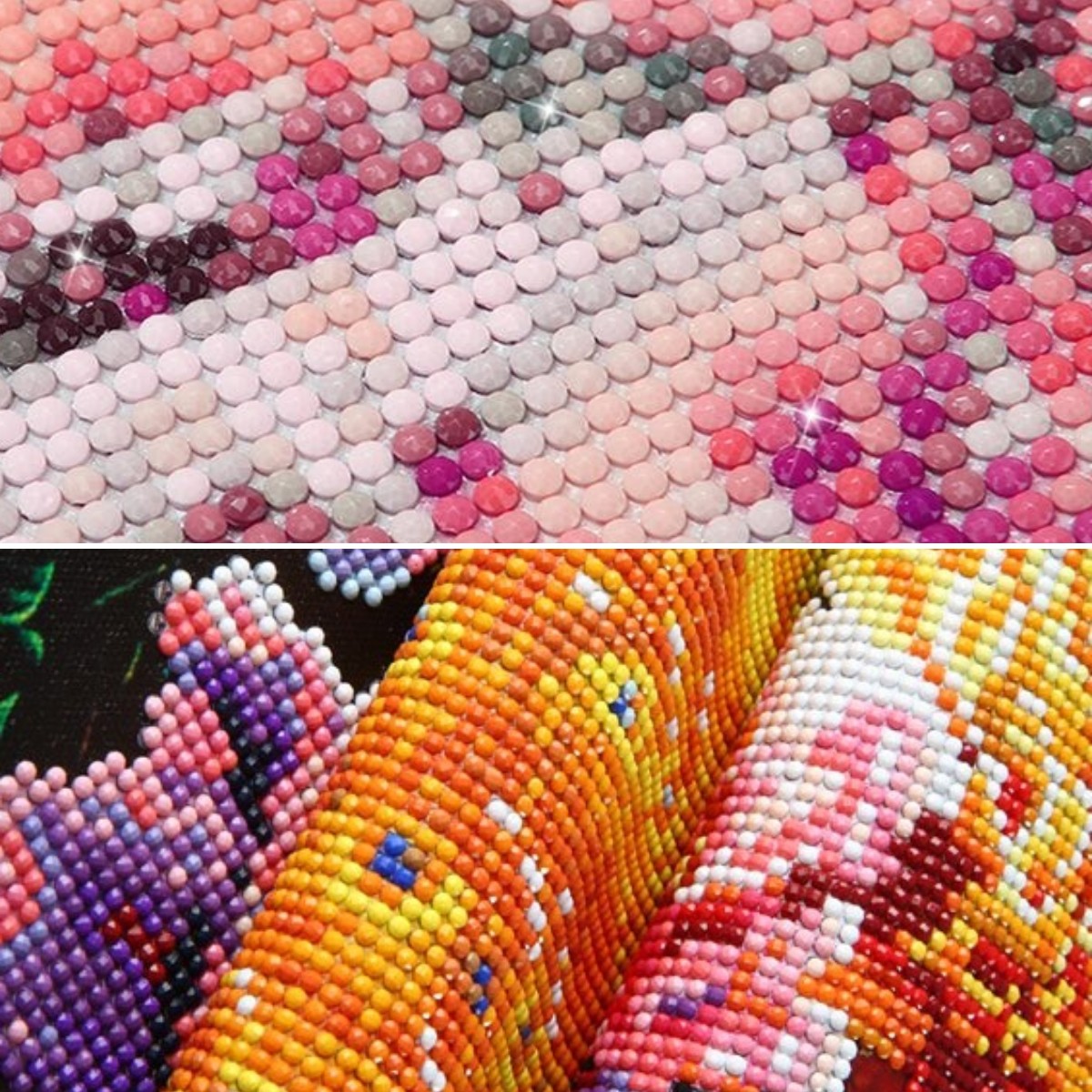 Full Square Drill: Square rhinestones stones are neatly arranged throughout the canvas.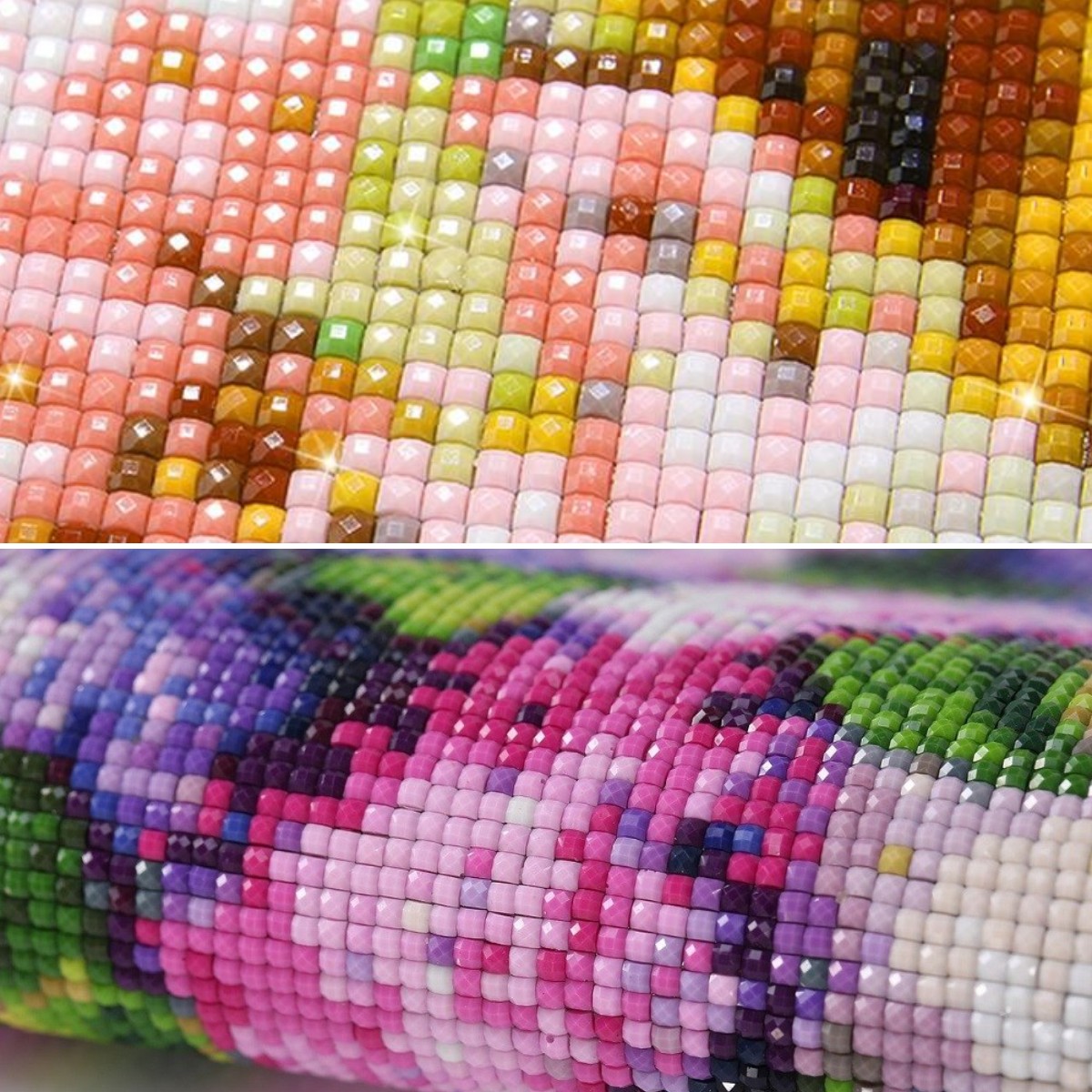 Special Shaped Drill: According to the pattern, different shapes such as flowers, water droplets, leaves, etc. will be used to create. There will be fewer diamonds than full drill.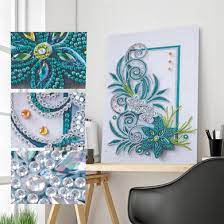 Crystal Drill: With a sparkling and clear reflective effect, there will be full diamonds and partial diamonds, please choose according to the product details.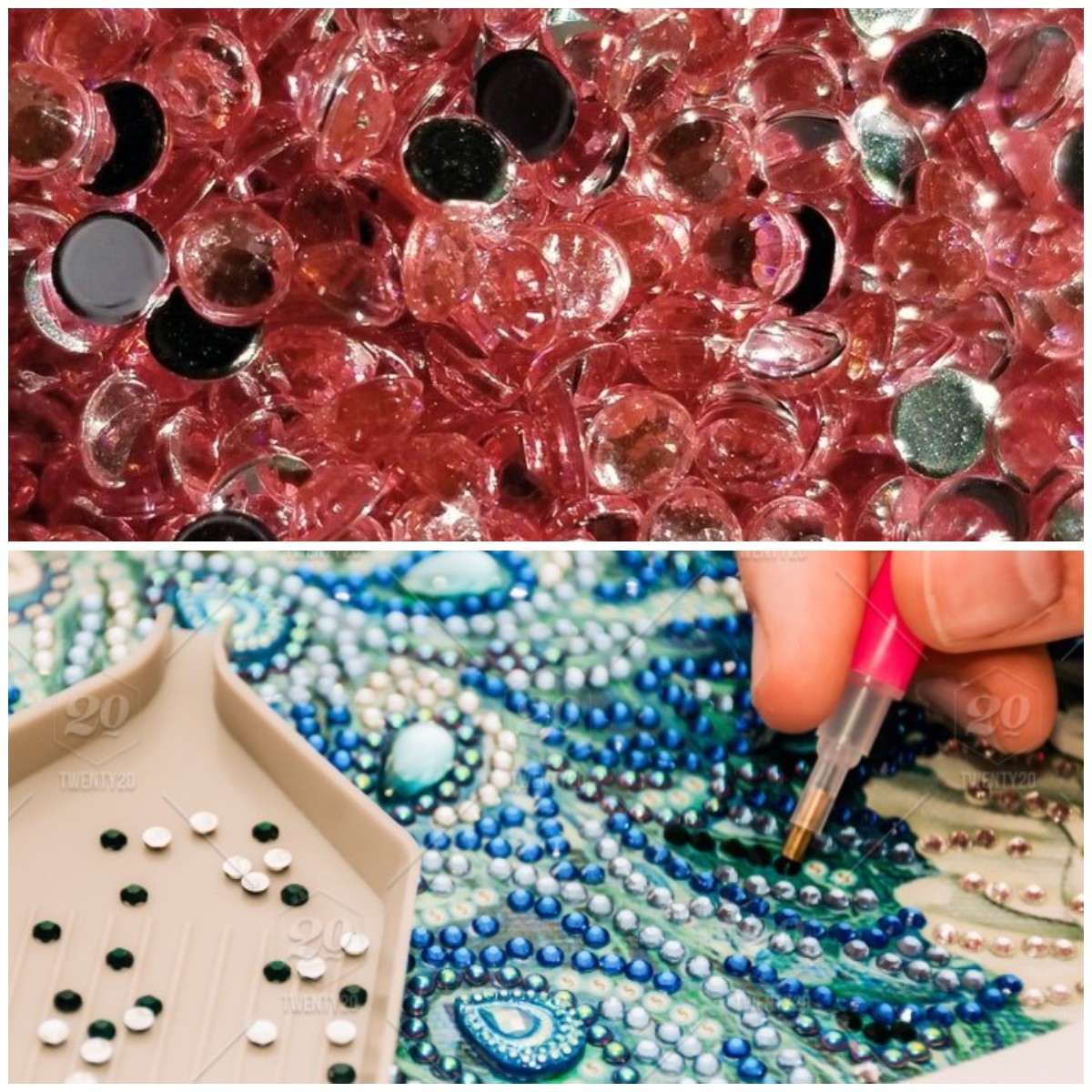 We do recommend beginners give the Round diamonds a try first. Diamonds are the myriad square or round rhinestones that come with every kit, waiting for you to paste them on the canvas! Square rhinestones fit more snugly together on the canvas, however will take a bit more precision and time to get just right. Round rhinestones are more forgiving but will leave tiny gaps. These gaps won't noticeable from a reasonable distance because they are so small and the canvas background normally compensates for the space.
What size canvas should I order?
Beginners may want to choose the smaller canvases (30cm/12" or smaller). While these will have less detail compared to the larger sizes, they are cheaper and you can experience the joy of your first completed canvas much sooner.
How do I check my order status?
Please log in to your accounts and click "Orders" to view order details and order status updates.
Guests will receive a confirmation email containing order details and a link. In order to protect your privacy, you can check the status of your order by clicking the link and creating your Peggybuy account.
I placed an order. Can I add an item?
The order begins processing soon after placement, so the quickest solution is to place a new order for the additional item.
How secure is my personal information?
You can be assured your credit card information and other personal info is well protected. We don't sell, lease or otherwise distribute any personal customer information.
How do I use coupon code?
On the cart page, you will be given the option to use coupon code for extra discount. You can use only one valid coupon code for each order.
How do I track my order?
We'll inform you via an email once your order is shipped out.
Log into your account, then you can find the shipping by these steps "My Orders->View Details->Track".
Also you can send an email to ask about shipping.
Are there any additional fees involved in international shipping?
In some cases, there will be VAT or custom duties levied by your destination country. The recipient must pay additional charges for custom duties or taxes. Custom duties and taxes vary from country to country.
Will my entire order be shipped in one package?
Usually your entire order will be shipped in one package. However, if your order includes products from manufacturers in different locations, multiple packages may ship to fulfill a single order.
How long it takes to receive my order?
All items are in our warehouse, The processing time is separate from the shipping time. Usually, it takes 1-2 business days to processing the order. Occasionally, the higher quality items might have a slightly longer processing time in addition to the 5 business days. We will provide the checking number or delivery message once we shipped out the items,please pay attention the your email.
We provide free shipping worldwide.Standard Shipping fee depends on the country and total weight of items in your order.Usually it will need 6-18 business days by free shipping,and 5-12 business days by stanadard delivery, the standard shipping mehod include DHL globalmail, UK direct line, AU direct line, EU direct line. If you choose express delivery, the shipping method should be DHL, EMS, FEDEX. the delivery time will be 5-7 business days.
How much do you charge for shipping?
We provide free shipping worldwide, Standard Shipping fee and Express Shipping fee depends on the country and total weight of items in your order. Usually the standard shipping fee is US$5.99 and the express shipping fee is US$50.
Return and Exchange
What if my order arrives incomplete, incorrect, damaged or defective?
100% 90 day money back guarantee. If you receive a package with a product missing, damaged, we will refund your money according to our promise and according to our refund policy.
Currently we are not able to offer exchange for any shipped orders. If you want a different size or different item, please place a new order.
How to return?
Step 1: Send a return request to [email protected] with your order number and the item/s you wish to return.
Step 2: Our customer service will reply with a RAN (return authorization number) within 24 hours.
Step 3: Pack up the item/s you want to return and send it back to our warehouse (address in the email with RAN).
Step 4: Wait for the package to be delivered to our warehouse. Once our warehouse receives the package, we will process refund to you within 2 business days.
Note:
All returned item/s must be in resalable condition, item/s that arrived damaged will not be eligible for refund.
We are not responsible for any items that are returned to us by mistake.